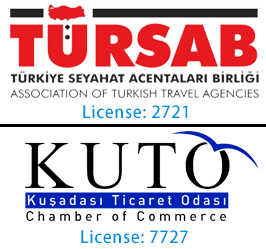 Classic Turkey Tours was started as a package tour division of Adonis Travel Agency which is a member of the Association of Turkish Travel Agencies (TURSAB) since 1994 and located in Kuşadasi, Aydın, TURKEY.
As being the birthplace of many civilizations, TURKEY itself is an exciting destination with its blend of history, culture, nature and endless variety of attractions that welcome you all to explore.
We at Classic Turkey Tours are here to create an unforgettable experience for your dream travel in Turkey.
Among the many services offered by our company, we stand out for individual tours, family tours, and group tours. Our expertise also extends to shore excursions, hotel reservations, transportations, local flights and any other special requirements you may have.
Our aim is to provide a service second to none by offering our guests a taste of the ultimate travel experience during their trip to Turkey.
We sustain our success by being customer oriented and our team always exceeds the needs and expectations of our valued guests with sophisticated professionals.
Our professional working partners and team strive to make your travel easy, relaxing and enjoyable, for our corporate and leisure guests alike. Your complete satisfaction is only the first of our goals. As a reliable travel agency with vast experience in travel services, we take great pleasure to offer an enjoyable experience with memories that will last forever.